SPECIFICATIONS
CGear Australia Pty. Ltd.
2/8 Schofield Street,
Moorabbin. Victoria. Australia. 3189
Ph: +61 3 9645 4447 | Fax: +61 3 9645 2447
© Copyright CGear Australia. All Rights Reserved
The Tactical Extraction Platform was designed to carry up to 1500Kg while it's unique light weight design allows the helicopter to travel up to 180kph with full weight/personnel carriage. Evacuation, deployment and insertion of up to 10 personnel can take less than one minute.
In ocean and aquatic environments, the Tactical Extraction Platform is not affected by rough sea conditions as it's platform design allows water to easily flow through its base and has a floatation capacity of 40cm (1.3ft) under water level. Designed to the safety specifications of the International Maritime Organisation (IMO), the Tactical Extraction Platform is currently in service on merchant SOLAS (Safety of Life at Sea) ships.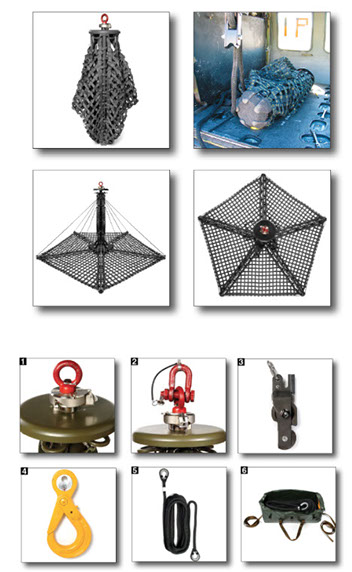 Helicopter Certification
• Bell 412
• Chinook - ch 47
• EC 725
• EH 101
• Mil Mi-17
• Puma SA 330
• Sea King S 61
• Super Frelon
• UH 60 Black Hawk
• Certification can be supplied for all helicopter types
Folded Dimensions
Height: 1.5m (4.9ft)
Diameter: 40cm (1.3ft)
Open Dimensions
Height: 1.5m (4.9ft)
Diameter: 2.9m (9.5ft) 7m2
Weight
Net Weight: 52.6 Kg (115.9 lbs)
Fly Away Kit
1. Main lifting ring
2. Shackle
3. Braking device
4. BK Hook
5. 25m (82ft) rope
6. Rope bag